One of the most important projects is called Milano5, which aims to build a new residential neighborhood in Oradea, based on an Italian-style concept.
Milano5 is a complex of high quality apartments, innovative both in terms of design and comfort. These aparments are spacious and bright, very well integrated into the environment, they are equipped with numerous relaxation areas, playgrounds for children, commercial spaces and green spaces.
With the intention of taking over the luxurious lifestyle of the italian city Milano, Vannis Marchi starts a new and important real estate investment in Oradea, named Milano5. The italian entrepreneur, with prestigious real estate activities, chose to further strengthen his connection, started in 2004, with Oradea, one of the most fascinating destinations in Romania, known for its unmistakable liveliness and Art Nouveau style.
"I have known Romania for a long time and after my first investments in land and buildings, I decided to further strengthen my relationship with the beautiful city of Oradea, because I believe in the dynamics of this city and its citizens, wich is supported by a very efficient and determined local government. The choice of the name Milano 5 was born from the desire to combine the beauty of the italian and romanian traditions, inspired by the projects Milano 2 and Milano 3 of Silvio Berlusconi, politician, with which I had the opportunity and pleasure to meet and talk to in person. I think that Milan 5 is something truly unique, designed to express a high standard real estate complex in Oradea, and it will certainly attract those who want to be inspired by a luxurious italian lifestyle. One thing that impressed me the most is the determination of the locals, who have a great desire to grow and prosper, and this made me believe and invest in Romania. On this occasion, I would like to thank the local government, which knows how to encourage the development of the city, and bears in mind the best interests of the community. For this reason, I am ready to make every effort in order to increase the connections with Italy and to dignify this hidden trasure of Transylvania, "says Vannis Marchi, creator of Milano 5. By the end of 2020, 145 apartments will be completed, the area being prepared for your comfort. The total investment amounts to over 200 million euros, and involves the construction of a large residential neighborhood, comprising 2,700 apartments and complementary spaces, on an area of 205,800 m2, in an exclusive and quiet area of Oradea, near the famous Băile Felix spa.
Apartments and commercial spaces
Bloc: P+2+eR
Bloc: P+5
Property description (MILANO5)
Description of building
Str. Aristide Demetriade, Nr. 17, Oradea BLOCK OF FLATS: A1-A2, B1-B2

General data
The building height regime is G + 2 + R and G + 5 respectively.
The apartments are selled in the SEMI-FINISHED STANDARD phase.
• Structura de rezistență
Structura de rezistență este realizată din diafragme și stâlpi din beton armat integrate în pereții din zidărie, planșee tip tală groasă din beton armat monolit peste fiecare nivel, fără grinzi la vedere (inestetice).

• Apartments
The external walls are made of 30 cm brick blocks, mounted with adhesive without thermal bridges and thermal insulation with a complete 10 cm system.
The dividing walls are made of 25, 20 and 12 cm thick brick blocks.
The closures and perimeter partitions are made of fire-resistant building materials, with very good and long-lasting soundproofness. The walls and ceilings inside the apartments are plastered with two coats and a coat of washable white paint.
The access doors in the apartments are made of high-security metal, made with materials that offer a high level of resistance, durability and finish.
• Building envelope
The building envelope is made with a fireproof polystyrene thermal system, 10 cm thick.
Waterproofing is done with a premium system.
• Electrical installations
The electrical installations inside the apartments are made with copper cables and boxes for modular sockets and switches.
Access control is carried out with the installation of the intercom and the proximity card.

• Plumbing
Cold water is provided from the city's water supply system.
Hot water is provided from each apartment's own gas heat unit.
Each apartment has its own gas heat unit , which provides underfloor heating as well.
• Carpentry
The external carpentry of the apartments is made of PVC, the windows being triple pane, thermally insulated with LOW-E glass and FLOAT inside.
• Terase/ Balcoane
Balcoanele apartamentelor sunt generoase, placate la exterior pe zona inferioară a parapetului cu imitatie de lemn. Pe fațada blocului sunt amplasate lumini decorative de exterior.
• Spații comune
Spațiile comune sunt prevăzute cu instalații electrice contorizate separat. Sunt finisate cu pardoseli de calitate superioară, și iluminat ambiental.
Imobilele sunt prevăzute cu ascensoare cu eficientă energetică ridicată cu vibrații și zgomot reduse.
• Outdoor common areas
There are individual parking lots, green areas, relaxation areas and playgrounds for children.
Cateva dintre facilitatile de care dispune cartierul Milano 5.
Incalzire
Incalzire pardoseala si centrala pe Gaz
Supraveghere
Zona dispune de Supraveghere Video
Parcare
Locuri de parcare disponibile pentru cumparare
Loc de joaca
Loc de joaca pentru copii
Izolare Fonica
Izolare fonica apartamente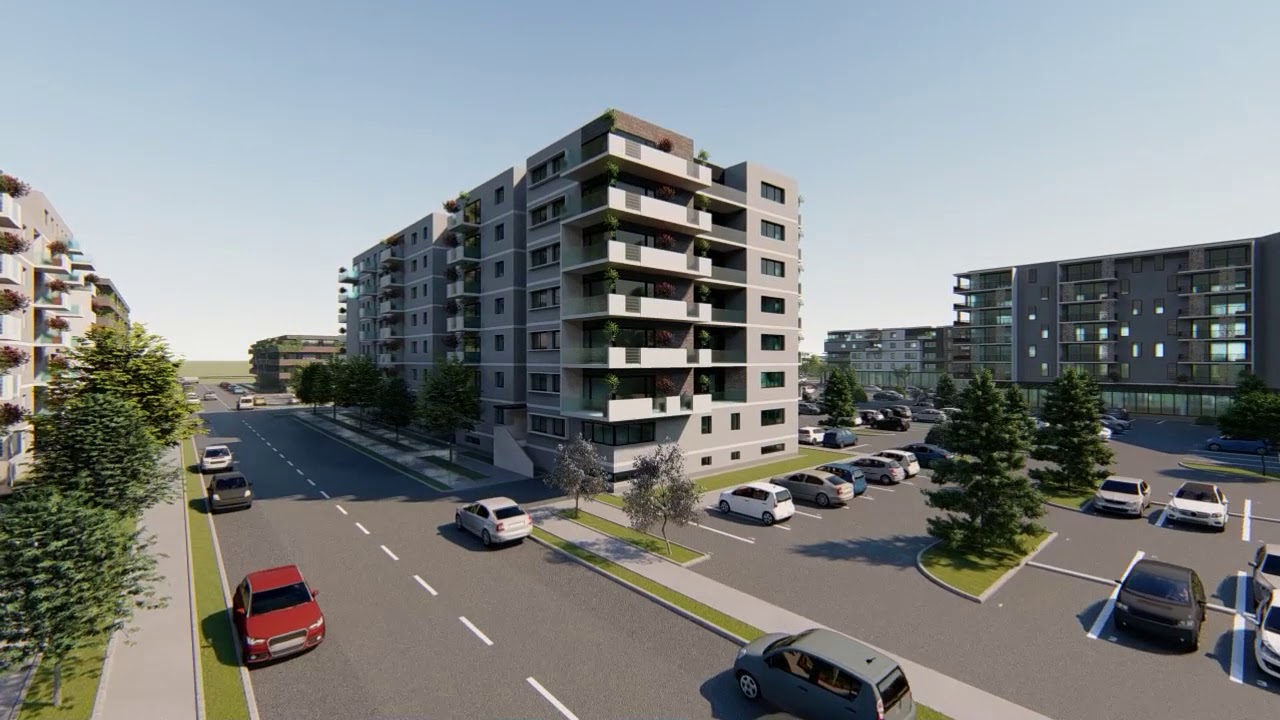 Milano5, Oradea - Prezentare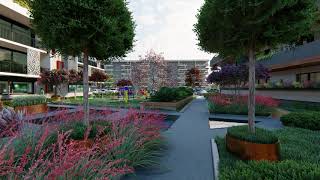 Prezentare Cartier Milano5, Oradea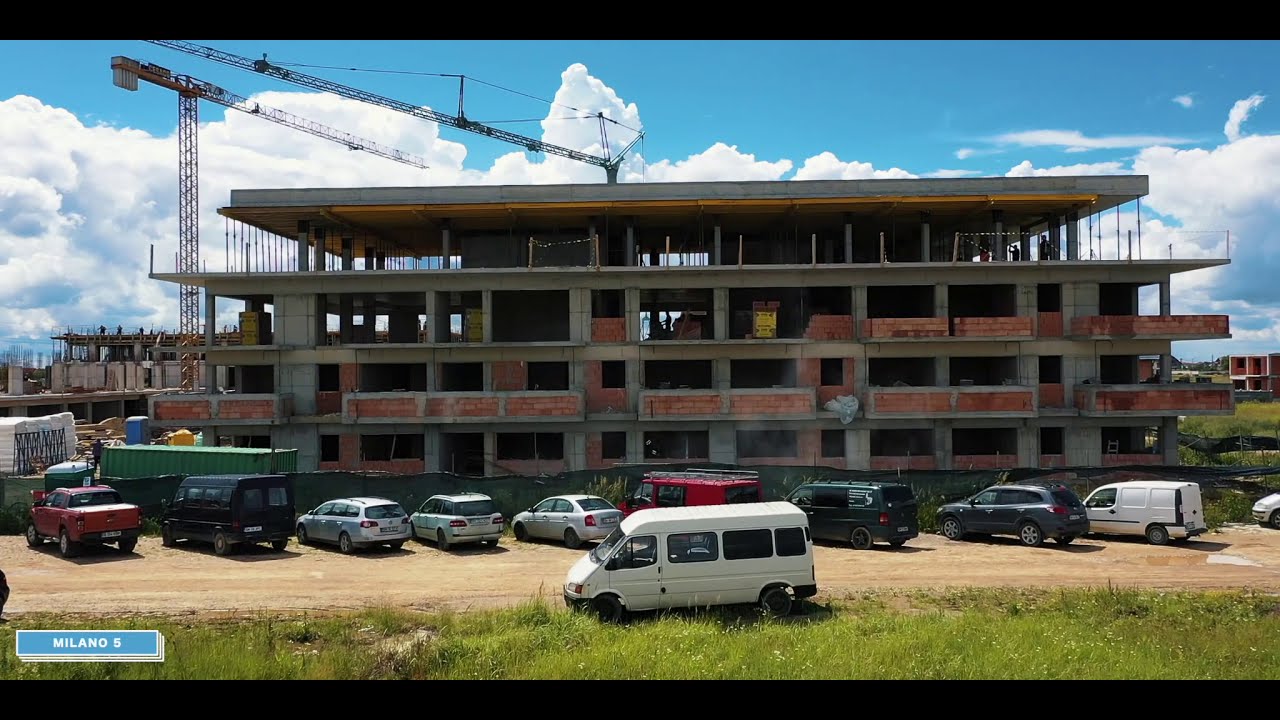 Stadiu Proiect cartier Milano 5, Oradea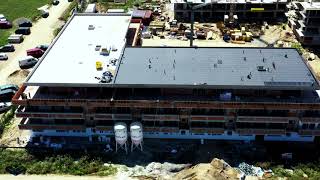 Milano5, Oradea - Prezentare
Prezentare Cartier Milano5, Oradea
Stadiu Proiect cartier Milano 5, Oradea
Prezentare Milano 5
We are at your disposal with any kind of information regarding the projects developed by us.